Our container transport solutions
Located at the port of Brisbane, DNV Transport specialise in containerised movements in and around south-east Queensland.
Our core service is FCL (Full Container Load) transport which involves unloading commercial cargo and/or personal effects and taking them to their destination. In addition, we offer value add services that include the unpacking of import containers along with warehousing and storage if required. We can also pack containers for export as per your requirements.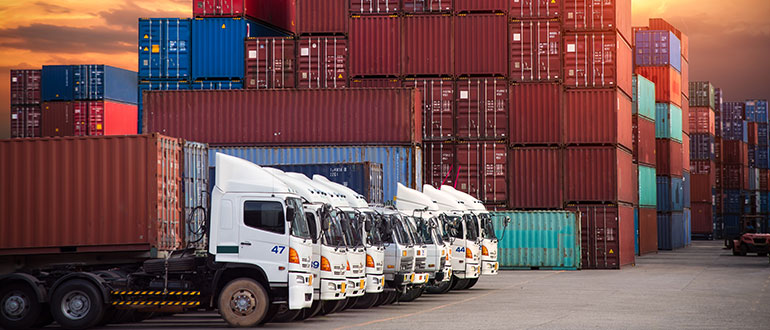 Why you should choose us
We know that our customers need to be able to depend on us. Delivery and transportation is a critical part of many businesses and we take care to make sure every container transport we do is done to the highest possible standards. This includes keeping our fleet well maintained and keeping up to date with the latest in container transport technologies and regulations. Owner David Carswell is hands on when it comes to customer service, management of our fleet, and even making deliveries himself if required.
Flexible and co-operative
We understand that things don't always go to plan. Delays can happen, urgent deliveries, and other unplanned events can occur. We will always endeavour to be as flexible as possible to work with you and your situation to resolve any problem that arises.
All the drivers we employ are inducted at all Brisbane wharf terminals and Brisbane railheads. Each member of our team also carries a valid MSIC (Maritime Security Identification Card).
Our extensive fleet can include a Side Loader, Tautliner, Skel Trailer, Retractable, Flat Top, and OOG (Out of Gauge Cargo) for oversized transportation requirements.
Our industry accreditations
NHVAS (National Heavy Vehicle Accreditation Scheme)
DG (Dangerous Goods)
HML (Higher Mass Limits)
QAP (Quarantine Accredited Premises) 1.1 & 11.2
How we can help you
Along with assisting with containerised movements we offer storage solutions, unpacking and packing solutions.
Our container transport services operate from the Port of Brisbane Monday to Friday between 7:00am and 5:00pm. Please call us if you have any questions about how we can help you with warehousing and distribution of containerised cargo.