We can solve your Brisbane warehousing and distribution problems
We make moving shipping containers around south-east Queensland easy!
As a transport company, we specialise in containerised movements throughout the south-east Queensland area. We have all the services you need to help you with your importing and/or exporting requirements including packing containers for export, unpacking import containers, transporting containers, and Oversized Out of Gauge loads. Our warehousing and distribution services are ideal when you don't have your own warehouse or room on your site to park a shipping container.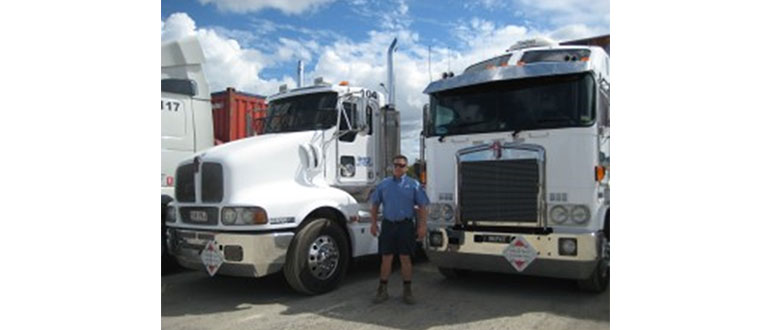 DNV Transport was established in 2011 and is conveniently located in the Port of Brisbane precinct. Owners David and Virginia Carswell have more than 20 years' experience in the transport industry and extensive knowledge in warehousing and distribution and transport. We are open Monday to Friday 7:00am to 5:00pm.
About our container transport services
We are proud of the long-standing relationships we have built with our clients. Our clients use our services because we are dependable, flexible, and co-operative to work with. Owner David Carswell is hands-on when it comes to managing our fleet and on occasion even completes deliveries personally when necessary.
All DNV Transport drivers are employed by us and are inducted at all Brisbane wharf terminals and railhead. They also all hold and carry a current MSIC (Maritime Security Identification Card).
Our modern fleet of prime movers are kept well-maintained so they are reliable and perform at their best. Our fleet includes Sideloaders, Skel trailers, and a double B trailer. We are committed to the safe and responsible transport of shipping containers.
We purchased our first truck and trailer in 2011 which has now grown to over 12 specialised items of equipment and machinery. We are accredited through NHVAS (National Heavy Vehicle Accreditation Scheme) with a Mass and Maintenance Management for our entire fleet. We also hold accreditations for DG (Dangerous Goods) and HML (Higher Mass Limits).
Our location at the port of Brisbane precinct is ideal for our clients throughout south-east Queensland. We can assist with:
Hubbing via depot
Warehousing and distribution
Unpacking containers
Packing FCL containers
Re-deliveries of loose cargo
AQIS (Australian Quarantine Inspection Services) unpacks and inspections
Contact us for any enquiry or booking related to importing or exporting shipping containers, transportation of shipping containers, unpacking, packing, and warehousing and distribution.